Equipment/Clothing
Cypress Mountain is often wet but seldom very cold. Children should be dressed in layers rather than snowsuits, so that they can adjust to the weather conditions. Rain gear should be worn on rainy days. Try not to overdress them! An overheated child is a grumpy child!
Depending on the weather, generally thinner gloves rather than mitts are preferred. Have a spare pair, especially for wet days. Don't forget a toque or headband.
We recommend the following ski equipment:
Our Bunnies and Jackrabbit Level 1 should have proper waxless skis and bindings – typically the skis should be no longer than 100 to 130 cm. Poles are not needed for Bunnies and in fact we discourage their use as they interfere with learning proper balance.
For Jackrabbit Level 2 we still recommend waxless skis with a contemporary binding (i.e. New Nordic Norm or Salomon – not 3-pin). The skis should still be shorter rather than longer and should have a length somewhere between the top of the head and an outstretched arm. We ski on very hilly terrain and it is important to be able to master the snow plow stopping techique and herring bone climbing technique, both which are easier to learn on shorter rather than longer skis.
For Jackrabbit Level 3 and Level 4 we still recommend a waxless ski but a better quality ski is warranted as the skiers continue to develop their classic technique. Skate skiing is also introduced at these levels and the Club has skis to be used for the skate ski sessions. A sturdy combi style ski boot is recommended (compatible with Salomon or NNN bindings to use the Club skate skis) to be able to switch back and forth between classic and skate skiing.
For the Track Attack Program we recommend that the skiers have both good quality classic (either fast waxless or waxable) and skate skis (skate skis available for rent for first year Track Attack skiers). This would also be the time to start considering separate boots for classic and skate.
Adventurers must have a good set of classic skis (waxable preferred) and strongly recommend that skiers also have their own skating equipment.
Race team members must have good quality waxable classic skis and skate skis.
A Parent's Guide to Cross Country Ski Equipment for Children
"Poor equipment, equipment that doesn't fit, or skis that are poorly prepared for the snow conditions may lead to a negative ski experience that can have a lasting impression on a child."
– BCR Ski Leader Manual
The following are general guidelines to assist parents in determining what kinds of equipment their children actually need.
Ski Bunny or Level 1 Age Group
This program is directed at children four to five years of age. A child's first ski equipment set would include a pair of no-wax skis. The poles are best introduced at Level 2 but if desired, the poles should be a 'classic' length (with the pole tip in the snow, the pole height would reach the under arm). Initial on-snow play does not require long skis, and they should be approximately the same height as the skier. It is better for the child to outgrow their skis than to grow into them.
Select a binding that is not difficult to operate, but is not prone to releasing either. Typically, young Bunny age children have adult assistance with their bindings.
Skiers at Level 2
The age group for this badge is usually six to seven years. For learning the skills required at this level and skiing at Cypress Mountain, it is preferable to have non-wax skis.
Skiers at Level 3
The age group for this badge level is usually eight to nine years. Skating technique is officially introduced to the skill development sessions at this point in the skill progressions. The child can learn skating technique skills while using classic skis, but they now require both skating length poles and classic length poles. The Hollyburn Cross COuntry Ski Club does have a selection of skate skis and poles that are lent out for the duration of the lesson where skate skiing is being practiced.
Take the time to ensure that this aspect of your child's participation is managed well; it is the first step towards the development of good technique.
Skiers at Level 4
The age group for this badge level is usually 9 to 10 years. The equipment requirements at this skill level are the same as for Level 3. Eventually, parents may wish to provide the child with two sets of equipment (both skating and classic) if their ski skills and future involvement in the sport appear to warrant the investment.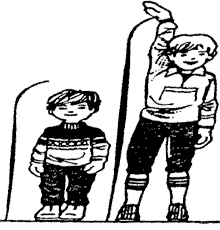 Skis
Classic skis should reach just below the wrist of the skier's outstretched arm, with the camber suitable for classic skiing.
Skating skis should be 3-4 cm above the head of the skier.
If the skis are not the correct length the skier will have difficulty mastering the technical skills necessary to become competent in the sport.
Poles
Poles must have adjustable straps.
Classic poles should reach under the arm when the skier is standing on the floor.
If poles are too long or too short, the skier will have difficulty mastering the technical skills necessary to become competent in the sport.
Boots/bindings
Salomon and NNN are the two commonly used, suitable boot/binding systems. Both are good and equally functional. The club has a limited selection of skate skis with both Salomon and NNN bindings that are available for use by Jackrabbit groups for the skate skiing lessons.
Boots must be comfortable. If boots are too large, they will be awkward to ski in and if they are too constrictive, feet will not stay warm.
Whatever you do, don't settle for poor quality just because the price is right, or it's the only thing available. Keep looking until you get the equipment that will give your child good ski experiences.
Ski shops & ski shops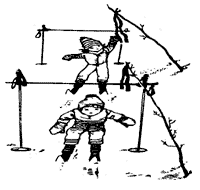 Parents are encouraged to buy suitable equipment for their children for two main reasons: it is an investment in a positive, fun learning experience; and good equipment retains its re-sale value – someone will always buy it when you are finished with it.
Acquiring equipment from ski swaps or other families involved in cross country skiing is a good method of keeping equipment costs in control. The Salomon binding is compatible with the Club skate skis that are available for the skate skiing lessons. Second hand equipment is only a bargain if it is suitable for the needs of the skier, and it fits comfortably. Ski shops can be approached with the prospect of trade-ins. Some already have trade-in programs in place. This method of shopping can also help to keep the costs down, keep children in proper equipment as they grow and progress, and encourage shops to carry only good equipment. (It is harder to recycle poor quality!)
Parents may wish to network with the other parents in the formation of an equipment pool. Before the end of each ski season, have a look at what other children are using. When the following ski season approaches (and the children have done some growing), use the network to locate the equipment that is most suitable for your youngster.
Reprinted from the 1996-97 edition of Ski Cross Country Magazine – Cross Country BC
Updated by HJSC Executive – 2007/11
Where to Buy
Local retailers are listed on our Links page. Also, the club hosts a buy night in conjunction with a local retailer in late October or early November.